Slow cooked smoked burgers with balsamic glaze. A perfect twist on the beloved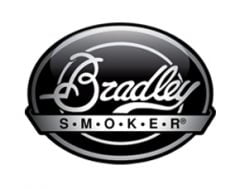 burger! We usually grill, but this technique adds an unexpected wonderful smoked flavour.
Ingredients
1Kg of Minced Beef
2 large cloves of Garlic, minced (or three smaller ones)
1 Tbsp Balsamic Glaze (it's a concentrated version of balsamic vinegar that many stores carry)
1 Tbsp Olive Oil
1½ tsp coarse Salt
1 tsp freshly ground Black Pepper
Instructions
I used the Original Bradley Smoker for this recipe, so I'll be explaining the process for our smoker. (For other smokers, just bring the temperature up to 107°C (225°F) and prepare the wood for smoking as per your smoker instructions.)
Remove all the trays from the smoker.
Fill the water bowl to half with water.
Load the feeder with enough Bradley Bisquettes for about 1 hour of smoking (3 bisquettes per hour plus 2 to push the last few).
Open the damper at the top about ½ way to release smoke.
Turn on the smoke generator and preheat the bisquette burner for 20 minutes.
Turn on the smoker and set the temperature to 107°C (225°F).
While the smoker is heating up, place the minced beef in a large bowl.
Sprinkle the garlic, balsamic glaze, olive oil, salt and pepper over the ground beef.
Gently mix the ground beef and other ingredients with your (very clean) hands.
Divide the mixture into four equal parts, and with your hands, gently form 4 burgers, be careful not to over pack or over handle the burgers.
Spray one smoker tray/rack with non-stick spray or use the Bradley Non-stick Magic Mats.
Once the smoker reaches 107°C (225°F), open the door, place the tray/rack with the burgers on the second shelf from the bottom, insert the prong of the Bradley Digital Thermometer in the centre of the meat in one of the burgers and close the door quickly to avoid dropping the temperature.
Make sure the temperature rises again to 107°C (225°F). Adjust if needed.
Check the temperature every ½ hour to ensure it's still at 107°C (225°F).
Once the digital thermometer reaches 71°C (160°F), remove the rack with the burgers from the smoker and place it on a baking sheet to avoid dripping.
Load up some fresh burger buns (we used onion buns) with the burger patties and your favourite toppings.
Serve quickly while it's hot! Enjoy!
Notes
Once you mix in the balsamic glaze, the meat will look like it has dark patches. There's nothing wrong with this. It's just colour from the glaze.
For our burger sauce, we combined a bit of smoky BBQ sauce with mayo… super easy and delicious!
Author: Nelson Cardoso