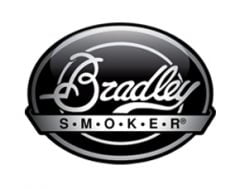 1 lamb shoulder (2.7 kg)
Coarse salt (kosher or sea), freshly ground black pepper, and hot pepper flakes
For the Bourbon Honey Barbecue Sauce:
1 cup Worcestershire sauce
1 cup tomato sauce
2/3 cup water
1/3 cup bourbon
1 teaspoon freshly grated lemon zest
3 tablespoons fresh lemon juice
1/3 cup honey, or to taste
3 tablespoons butter
1/2 teaspoon ground allspice
1/2 teaspoon hot pepper flakes (optional)
10 to 12 buttered and grilled hamburger buns (optional)
Generously season the lamb on all sides with salt, pepper, and hot pepper flakes.
Prepare the Bourbon Honey Barbecue Sauce: Combine the ingredients in a large saucepan, bring to a boil, and cook until richly flavored and slightly reduced, 5 to 10 minutes, whisking often. Transfer 2/3 of this sauce to a serving bowl and set aside to cool.   Reserve the remaining sauce for basting.
Set up your Bradley Smoker following the manufacturer's instructions, add Hickory Bisquettes to the feed tube, and preheat to 120C. Place the lamb, fat side up, on one of the smoker shelves.
Smoke the lamb until fall-off-the-bone tender and the internal temperature reaches 90C, 6 to 8 hours. (The cooking time will depend on the size of the shoulder.) Replenish the bisquettes as needed.  Start basting the lamb with the sauce the last hour of cooking and baste every 20 minutes.   Transfer the smoked lamb to a cutting board and loosely tent with foil.   Let rest for 10 minutes.
Meanwhile, grill or toast the buns if serving.
Thinly slice the lamb across the grain or finely chop it with a cleaver. Pile it on buns (or serve on a platter) with Bourbon Honey Barbecue Sauce spooned over it or served on the side.   Makes 10 to 12 sandwiches.