Delicious and because you bake them they are also healthy!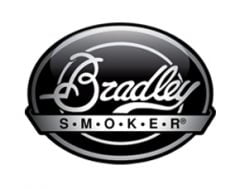 INGREDIENTS:
1 boneless Chicken breast (skin on)
Salt & Pepper
bundle dried thread rice noodles (about 60g)
1 Tbsp Sunflower Oil
300g pack fresh stir-fry vegetables – go for a leafy mix
half finger-length fresh root ginger, grated
small bunch Coriander, stalks finely sliced, leaves roughly chopped
2 Tbsp Sweet Chilli Sauce, plus extra to serve
8 small sheets Filo pastry
1 Tbsp Sesame Seeds (optional)
Bradley Smoker bisquettes – Maple, Alder, Premium Beer or Premium Ginger Sesame
DIRECTIONS:
Turn on your Bradley Smoker and set the temperature to 110C.  Load with your favourite bisquettes (Maple, Alder, Premium Beer, and Premium Ginger Sesame are all great flavours for Chicken)
Season the chicken breast with salt and pepper.  Hot smoke for approximately 1 hour (or until an internal temperature of 75C degrees is reached).  Let cool and shred
Preheat oven to 200C. Cook the noodles according to pack instructions.
Heat 1 tsp Oil in a large wok or non-stick frying pan. Stir-fry the vegetables, ginger and coriander stalks for 3-4 mins until almost cooked, but still with a little crunch.
Add the shredded smoked chicken and rice noodles, and mix through – set aside.
To manage the filo pastry without it breaking easily, defrost and keep under a plate or a sheet of plastic until required (this prevents it drying out).  Brush 4 sheets of filo with a little of the oil, then place another sheet on top of each one.
Pile a quarter of your chicken mixture along the narrow edge of each sheet, fold over the edges, and roll up to give you 4 large spring rolls. These can now be baked or frozen for up to 1 month; defrost thoroughly before cooking as below.
To bake, brush each spring roll with the remaining oil, sprinkle with sesame seeds if using, then bake on a baking sheet, seam-side down, for 15 mins until golden and crisp. Serve with a green salad, and some extra sweet chilli sauce on the side.
Original Recipe from BBC Good Food adapted by Bradley Smoker New Zealand.
Visit  our Bradley Smoker New Zealand Facebook Page