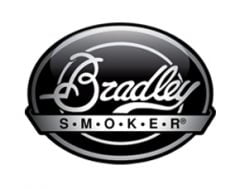 Smoked pork meatloaf stuffed with salsa and cheddar cheese.
Ingredients
1.5kg Pork mince
1 tsp Chili powder
½ tsp Garlic powder
½ tsp dried Oregano
½ tsp Salt
1 Cup Salsa
1 ½ Cups grated Cheese
Bradley Smoker Bisquettes (our suggestions for Pork: Apple, Maple, Hickory)
Instructions
Mix the ground pork, chili powder, garlic powder, oregano, and salt until well combined. Roll the meat mixture into a 10×10 inch square. Roll in a large freezer bag or on parchment paper so the meat will roll into the fatty easily.
Spoon the salsa in a line in the middle of the sausage meat. Sprinkle the grated cheddar on top of the salsa.
Roll up the fatty so that the cheese and salsa are completely surrounded by the meat mixture. Place the fatty on a smoker rack.
Set your Bradley Smoker to 120C and smoke the fatty for about 2 ½ hours using your favourite bisquettes.
Remove when the internal temperature is at 74C.