A finishing baste of white barbecue sauce embeds a deep tangy character into the meat that makes this chicken something special.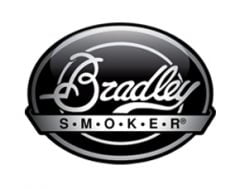 INGREDIENTS
For the Sauce
2 Cups Mayonnaise
1 Cup Apple Cider Vinegar
½ Cup Apple Juice
2 tsp grated Horseradish
2 tsp freshly ground Black Pepper
2 tsp fresh lemon juice
1 tsp Kosher salt
½ tsp Mustard Powder
½ tsp Cayenne Pepper
For the Brine
1 Litre Apple Juice
1 Litre Water
½ Cup Kosher Salt
¼ Cup Brown Sugar
2 Tbsp Molasses
1 whole chicken, butterflied or halved
¼ Cup of your favourite BBQ Rub
Bradley Smoker Bisquettes – Apple or Cherry
PROCEDURE
To make the sauce:Place mayonnaise, vinegar, apple juice, horseradish, black pepper, lemon juice, salt, mustard powder, and cayenne pepper in a medium bowl and whisk to combine. Transfer to a jar and store in refrigerator until ready to use.
To make the brine: Whisk together apple juice, water, salt, brown sugar, and molasses until solids have dissolved. Submerge chicken in brine, breast side down, and place in refrigerator for 1½ hours.
Remove chicken from brine and pat dry with paper towels. Season both sides of chicken liberally with BBQ Rub. 
Set up your Bradley Smoker and set to 120C (248F). Load with bisquettes of your choice. Place chicken, skin side up, on smoker rack and place in the smoker. Cook until breast meat registers 75C (167F) degrees on a Bradley Digital Thermometer inserted in thickest part of meat.
Brush chicken liberally with white barbecue sauce. Transfer to cutting board and let rest for 10 minutes. Cut chicken into quarters, and serve.