Ingredients:
Marinade:
¼ cup Jack Daniels
3 sprigs fresh Rosemary, coarsely chopped
4 medium cloves Garlic, minced
1 Tbsp grainy Mustard
3 Tbsp Olive Oil
2 tsp crushed Red Pepper Flakes
1 tsp cracked Black Pepper
Directions
Strip rosemary leaves from the stems and coarsely chop. Mix rosemary and other marinade ingredients in a bowl until well combined.
Cut pork into 2×6 inch pieces, for better flavour you can remove skin.
Place the pork in a large sealable plastic bag and pour marinade over top of pork. Expel as much air as possible, seal bag and toss to coat evenly.  Place bag in fridge to marinade overnight.
Take pork out of bag and place on a baking sheet. Pat the pork dry with a clean paper towel, do not remove the seasonings that are clinging to the pork.  Discard the marinade.
Let pork sit at room temperature for about 2hrs before putting in the smoker.
After drying time, place pork in preheated Bradley Smoker at 107°C (225°F). Apply 2 hours of smoke (Pecan, Apple and Maple work best, or Hickory for a stronger flavour) and continue to cook for approx. 2-3 more hours.
When pork reaches an internal temperature of 68-71°C (155-160°F) remove from smoker, loosely cover with foil and let rest for 15 minutes.
If you smoked with the skin on, remove skin and thinly slice or cut into bite size pieces. Serve plain or with dipping sauce below on the side or drizzled over pork.
JD Dipping Sauce
Ingredients: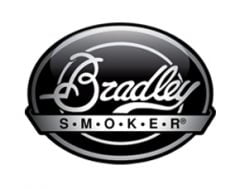 1 cup Tomato Sauce
6 Tbsp Brown Sugar, Honey or Maple Syrup
5 ounces Jack Daniels (one shot)
2 Tbsp Malt Vinegar
1 Tbsp grainy Mustard
2-4 tsp Chipotle Tabasco Sauce or 1 Chipotle Pepper
1 tsp Garlic Powder
1 tsp Onion Powder
½ tsp Kosher Salt
½ tsp Black Pepper
Makes about 1 cup
Directions
Combine all ingredients in a small saucepan.
Simmer until slightly thickened.
Taste and adjust salt and pepper.
Allow to cool before serving.
Compliments of Bradley Australia